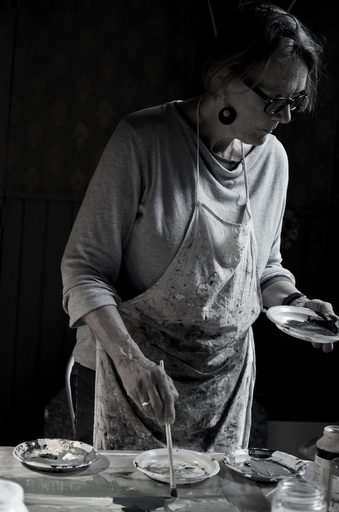 IRENE VAN DEN BOS
Velsen, 1953
Studio:
Torenlaan 1g1
1251 HE Laren
The Netherlands
Private:
Mierenmeent 41
1218 EH Hilversum
The Netherlands
Telephone:
+31614340172
E-mail:
KvK:
32133640/IRENEART
Education:
1972-1973 Art & Textile, Gerrit Rietveld Academie, Amsterdam
1974 Education Teacher in Arts, Pedagogische Academie, Haarlem
1990-1996 Cultural Studies, Open University The Netherlands, Heerlen
Biography:
As of 2008 I have regular exhibitions in the Singer Museum in Laren with artist association Laren Blaricum. I have also participated in art fairs and manifestations such as Kunstmaand Ameland, Huntenkunst, ArtArnhem and LekArt.
My works are in stock at
Saatchi Art, Santa Monica, California (USA) (digital gallery)
28th of January 2016: Artist of the Day, nominated by curator Rebecca Wilson in New Contemporary Portrait
Galerie Adorable Art+Design, Den Haag
Exhibitions:
2019: Pulchri Den Haag. Voorjaars Salon
2019: Cultura, Ede
2019: PopInnArt Loods 6 Amsterdam Great Artists Steal
2019: Ode to the Old Masters, Design Hotel Artemis, Amsterdam
2019: Huntenkunst, Ulft
2019: KunstRai Amsterdam met Adorable Art+Design Den Haag
2019: Singer Museum Laren.
2018: Najaars Salon Pulchri Den Haag
2017: KunstRai Amsterdam met Adorable Art+Design Den Haag
2017: Galerie De Stoker, Witte de Withstraat 124, Amsterdam. solo. Face to Face.
2017: Singer Musuem Laren. groepstentoonstelling.
2016: Pulchri Studio, Den Haag, Refugee Art: Perception and Reality
2016: Pulchri Studio, Den Haag, Voorjaarssalon
2016: Kunstenhuis, Harelbeke (Belgium)
2015: Pulchri, Den Haag, solo exhibition
2014: Art Arnhem, Art Fair
2014: Lucebert Festival, Naarden Vesting
2014: GSA Galerie, Hilversum
2014: Museum Hilversum, Hilversum
2014: Odeon Theater, Zwolle
2014: Gereformeerde Hogeschool, Zwolle
2013: Pulchri Studio, Den Haag
2013: Pulchri Studio, Den Haag
2013: Huntenkunst, Ulft
2013: Singer Museum, Laren
2013: Blokhuispoort, Leeuwarden
2012: ArtTraverse, Bilthoven
2012: Galerie Arte Temporale, Bussum
2012: Huntenkunst, Ulft
2012: Pulchri Studio, Den Haag
2012: GSA Galerie, Hilversum
2012: Kunstmaand Ameland
2012: Galerie RudolfV, Amsterdam
2011: Singer Museum, Laren
2011: Huntenkunst, Doetinchem
2011: Galerie Manna, Brugge (Belgium)
2011: Galerie III, Bussum
2011: Galerie KNH, Haarlem
2011: Van der Steenhoven Advocaten, Amsterdam
2011: Galerie Jan Eikenaar, Burgh-Haamstede
2011: AyrSpace Gallery, Ontario (Canada)
2011: Amsterdam Art Fair, Amsterdam
2010: Museum Hilversum, Hilversum
2010: Hilton Hotel, Stockholm (Sweden)
2010: Galerie RudolfV, Amsterdam
2010: Pulitzer Hotel, Amsterdam
2010: GSA Galerie, Hilversum
2010: Kunstmoment, Diepenheim
2010: Galerie Abundance, Den Haag
2010: Galerie III, Bussum
2010: Huizer Museum, Huizen
2009: Art Gallery Colline Verte, Borgloon (Belgium)
2009: Singer Museum, Laren
2009: Museum Hilversum, Hilversum
2008: Galerie Gelderland, Arnhem
2008: Galerie Peter Leen, Breukelen
2007: Kunstmaand Ameland
2007: Singer Museum, Laren
2005: Singer Museum, Laren
2004: LekArt, Culemborg
2004: Museum Catharijneconvent, Utrecht
2003: Domkerk, Utrecht
2002: Noorderkerk, Amsterdam