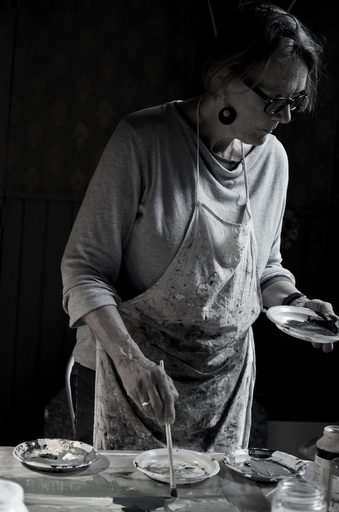 IRENE VAN DEN BOS
Velsen, 1953
Studio:
Torenlaan 1g1
1251 HE Laren
The Netherlands
Private:
Mierenmeent 41
1218 EH Hilversum
The Netherlands
Telephone:
+31614340172
E-mail:
KvK:
32133640/IRENEART
Education:
1972-1973 Art & Textile, Gerrit Rietveld Academie, Amsterdam
1974 Education Teacher in Arts, Pedagogische Academie, Haarlem
1990-1996 Cultural Studies, Open University The Netherlands, Heerlen
Biography:
As of 2008 I have regular exhibitions in the Singer Museum in Laren with artist association Laren Blaricum and solo in Museum Hilversum. I have also participated in art fairs and manifestations such as Kunstmaand Ameland, Huntenkunst, ArtArnhem and LekArt.
Participation at KunstRai Amsterdam (3 editions so far ) with Adorable Art+Design Gallery The Hague.
My works are in stock at
Saatchi Art, Santa Monica, California (USA) (digital gallery)
28th of January 2016: Artist of the Day, nominated by curator Rebecca Wilson in New Contemporary Portrait
Galerie Adorable Art+Design, Den Haag
Exhibitions:
2019: Pulchri Den Haag. Voorjaars Salon
2019: Cultura, Ede
2019: PopInnArt Loods 6 Amsterdam Great Artists Steal
2019: Ode to the Old Masters, Design Hotel Artemis, Amsterdam
2019: Huntenkunst, Ulft
2019: KunstRai Amsterdam met Adorable Art+Design Den Haag
2019: Singer Museum Laren.
2018: Najaars Salon Pulchri Den Haag
2017: KunstRai Amsterdam met Adorable Art+Design Den Haag